---
Interaction design
AGDA Finalist

This project was made as part of the Visual Communication Honours course at the University of Technology Sydney.

Thank you to studio leader Andrew Burrell, course director Zoë Sadokierski, and faculty members including Jacqueline Lorber Kasunic, Ali Chalmers Braithwaite, and Jacqueline Gothe for all your support and guidance.

And to all my peers in the 2020 Viscom Honours cohort.

Cyborg Witch Theatre is a website where intersectional identity is constructed and performed. Users are called upon to explore how they might perform these cyborg witch strategies of spell and ritual, through coded interactions that activate with speech and gesture.
In this space I have materialised my own intersections, of queerness and my Chinese-Australian background, as a process of reclaiming identity through a cyborg-witch embodiment.
Through the metaphor of a theatre, users are invited in as a multiplied observer, performer, and voyeur, and play upon the stage in their own process of becoming.

︎︎︎ Enter site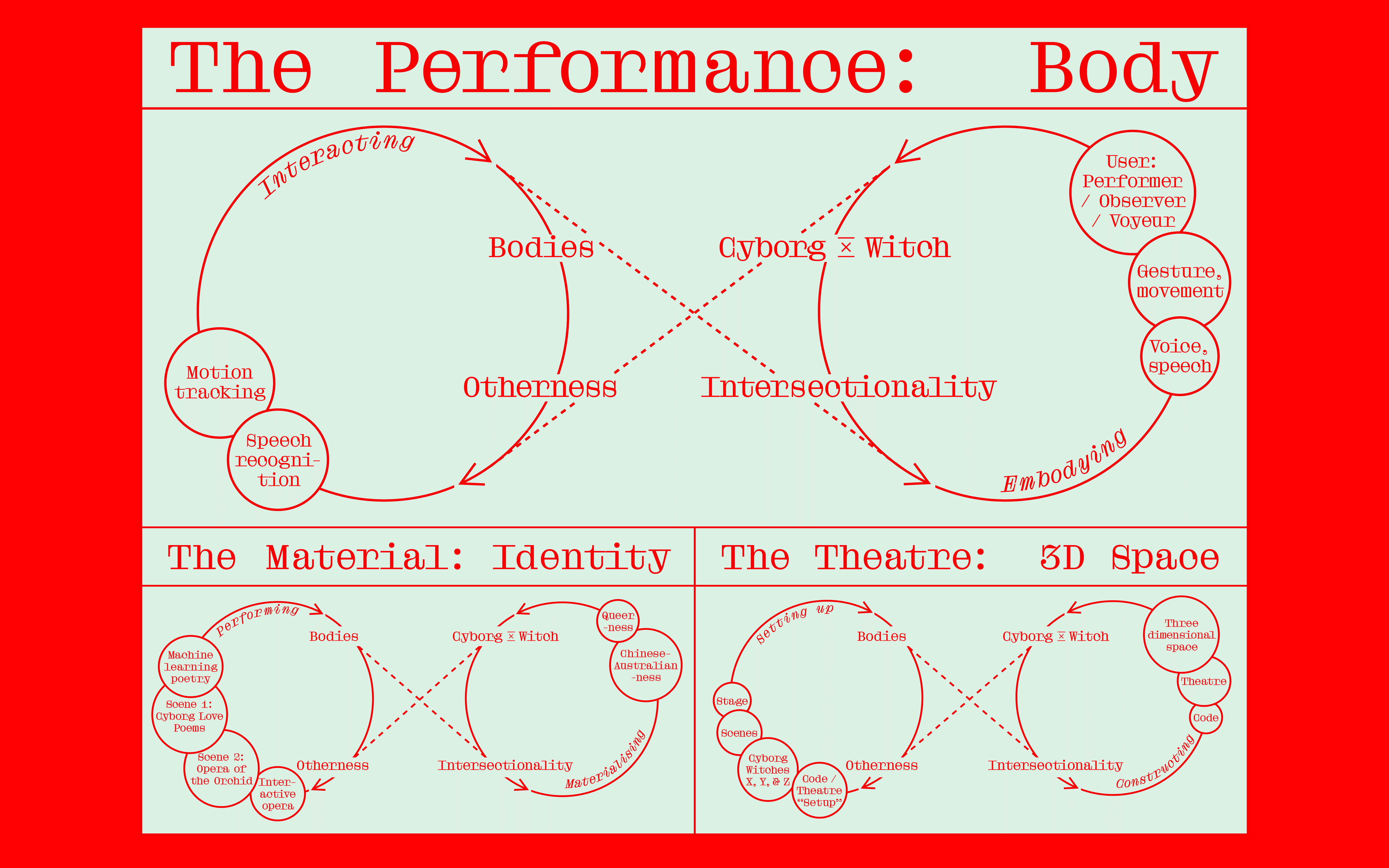 Mapping the project
The idea of a 'Cyborg Witch Theatre' was developed out of research exploring how identity and otherness are tied to our bodies.

Here, the cyborg and the witch are bodies that actively claim their otherness. Brought together, they offer strategies of speech, language, gesture, and movement that become a performance of agency through user interaction.

︎︎︎ Scroll for a walkthrough of the website, and how each interaction constructs this performance through the experience.















---
The user enters the theatre through a 'setup' process, participating in the metaphorical ritual of setting up the stage.
First, an introduction to the narrators,
Cyborg Witches X, Y, & Z
, who play into the foreshadowing powers of both the theatre and the witch. With the entering of a username, the user initiates themselves into the space.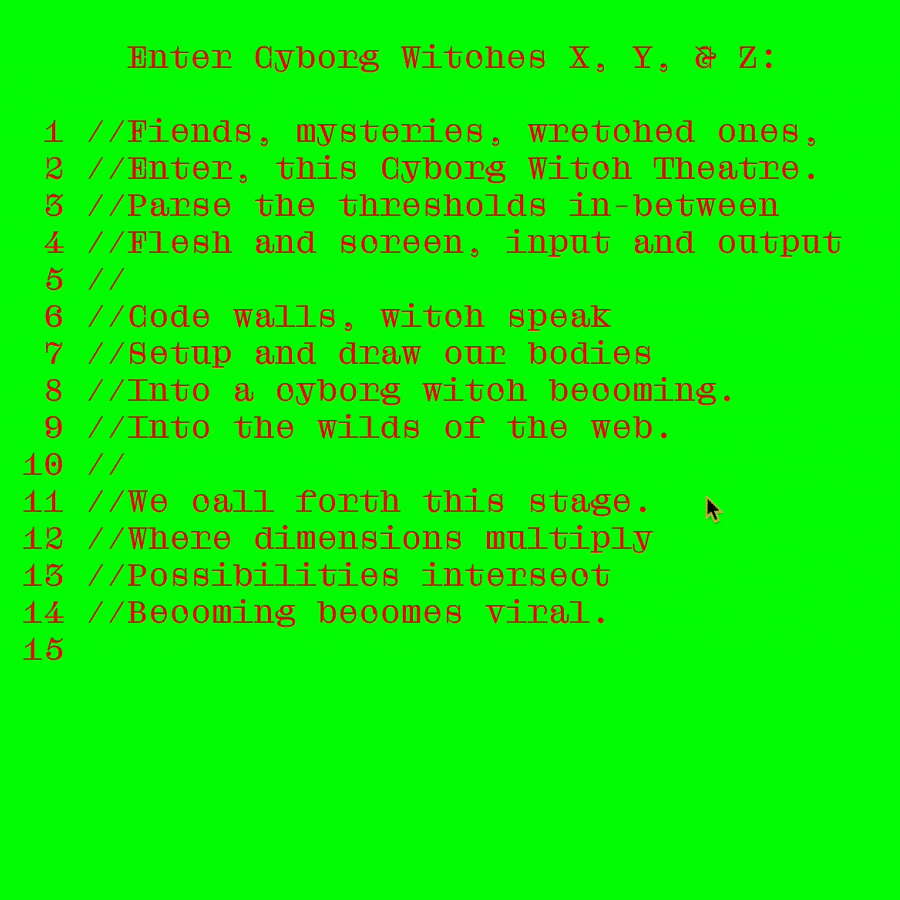 ---
Scene 1: Cyborg Love Poems

Scene 1 is an interaction built around a cyborg witch use of speech to conjure new realities. This connection between code and spell is made apparent as you interact with speech recognition and see your words materialise on stage.
There are 15 'Cyborg Love Poems' that were
generated with a machine learning model trained on Chinese poetry,
and edited together through a queer lens.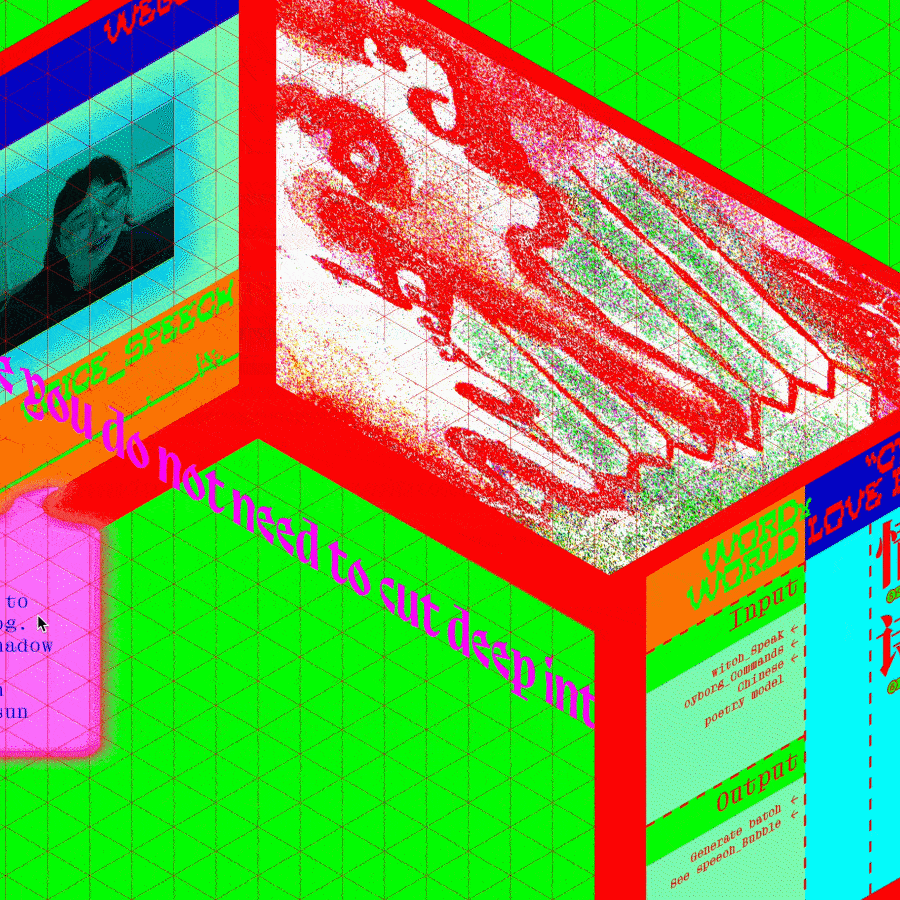 ---
Scene 2: Opera if the Orchid

Scene 2 takes on gesture as a cyborg witch strategy of embodiment, in the communication of emotion and desire. This is explored through the
'orchid hand speak' of Chinese opera,
where hand gestures have been modelled on the shape and arrangement of orchid petals.
The webcam function and motion tracking code tracks the movements of the user to trigger sound clips and 3D objects, to orchestrate an opera.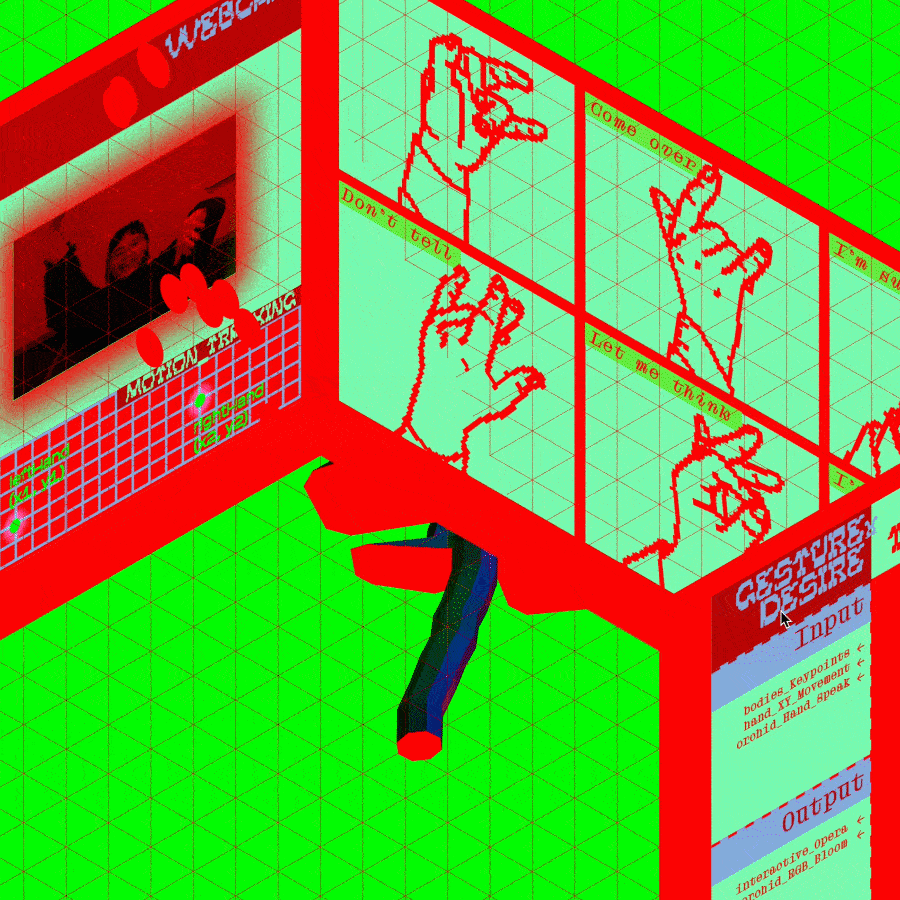 ---